Will the spectre of the far-left's Jean-Luc Mélenchon be exorcised by the latest terror attack?
by Ana Pouvreau , Mark Porter / April 21, 2017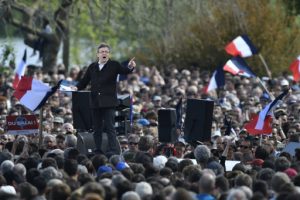 The French presidential election programme ground to an unscheduled halt this morning following the Islamic State-claimed shooting in the Champs Elysées on Thursday night. One policeman died, and two others were injured. Two of the four main candidates, François Fillon and Marine Le Pen, immediately cancelled events ahead of Friday's midnight deadline for electioneering, while others reacted with shock and expressed sympathy for the families and friends of the wounded and dead officers.
As tension ratcheted across France two days before Sunday's election, speculation mounted as to how much political traction this was likely to give Le Pen and her fellow right-wing front-runner, Fillon. Both are seen as hard on terrorism and crime, and hawkish on security.
Whether or not it is likely to thwart the ambitions of Jean-Luc Mélenchon, the 65 year-old Trotskyite who was riding hard towards the front of the pack, remains to be seen. Thanks to his galvanic campaign, a second round run-off between the far right and the hard left was looking increasingly possible. Young militants, misty-eyed communists and disenchanted socialists have breathed life into his prospects ahead of the first round vote. His call for a National Guard of volunteers to replace the 7,000 anti-terrorism troops deployed around France as part of the emergency measures adopted after the attack on the Charlie Hebdo newspaper in January 2015, is unlikely to play well with the electorate.
Mélenchon's critics might instead care to take note of his foreign policy, which is a near mirror image of the National Front's. Both he and Le Pen are staunch detractors of Nato and threaten to pull the plug on the European Union. And both are keen supporters of Russian President Vladimir Putin, who is perceived by many as posing a grave danger to European security. (Indeed, of the 11 candidates competing in the first round, eight are in favour of leaving Nato and nine want closer relations with Putin.)
In recent months, Le Pen and the moderate Emmanuel Macron of the En Marche! party have dominated proceedings after the conservative François Fillon of Les Républicains was hit by scandal. But this is now a four-horse race, with Mélenchon closing in fast. Recent polls show that Le Pen and Macron are above 20 per cent, with Mélenchon and Fillon just behind.
Mélenchon's campaign gained critical mass on 9th April when tens of thousands gathered on the white marble quayside of Marseille to chant: "Résistance, Résistance!" It is the young, especially, who have flocked to his party La France Insoumise (Unsubjugated France), and his personal approval ratings have recently risen 22 points to 68 points, making him the most popular politician in France. On Tuesday, the quick-witted, stand-up politician appeared at a rally in Dijon—and simultaneously as a holographic projection at events in six other cities.
His young supporters like the sound of his proposals: €250bn in public spending, a 32-hour working week and 90 per cent tax on wages above €400,000. Since then, the sound of French bonds being junked and the gasps of horror from the banking and business communities has been drowned out by the clamour of support for France's Robin Hood.
But the wider campaign has seen little focus on policies such as Le Pen's desire to withdraw from Nato's military command, which she complains is in the grip of the United States. Macron is the only serious candidate in favour of Nato. Though France is a founding member of the Alliance, Charles de Gaulle withdrew in 1966 and it wasn't until 2009 that the country rejoined under Nicolas Sarkozy. Under the Nato pact, an attack on any member is deemed an attack on all. France leaving would deprive Nato of the EU's strongest military power.
But Le Pen is also committed to remaining in the Nato civil structure. This would allow France to veto Nato actions in Eastern Europe, prevent new members from joining and also compromise the defence of the Baltic nations—Nato members since 2004—in the face of Russian aggression.
Richard Shirreff, Nato's former Deputy Supreme Allied Commander Europe confirms that French withdrawal would be a "disaster." "By pulling out of the integrated military structure France would be going back to the bad old days, he told Prospect. "Moreover the notion that by being only in the civil structure France can obstruct Nato initiatives in the East is very dangerous because the Alliance's initiatives in the East are all about deterrence of a resurgent Russia."
Fillon also advocates a reset of bilateral relations between France and Russia and is insistent that sanctions against Russia be lifted. After his term as Prime Minister under Sarkozy, he forged strong relations with Moscow and has surrounded himself with Putin apologists. Mélenchon for his part calls for an outright withdrawal from the whole Alliance, which he often describes as "a deadly trap for the peoples of Europe" and a "rotten cause." He regards Russia as an ally. "What we need is a big conference with Russia at which we will redefine the new borders in Europe, especially those with Crimea and Ukraine."
As strategist and analyst Dr Julian Lindley-French sums up: "If Madame Le Pen or Monsieur Mélenchon is elected President de la République, the Euro-Atlantic community could face its second great schism of this decade… France could leave both Nato and the EU. It is hard to believe either institution could in all honesty survive such shocks over the medium term."
A Easter poll by TNS Sofres suggests that if Mélenchon and Le Pen go head to head in the second round, the leftwinger would win comfortably with 57 per cent of the votes. Macron and his party are an unknown quantity, one of the factors that make this election the most unpredictable in memory, along with the collapse of the ruling Socialist party. With one third of France's 47m voters undecided and a further 30 per cent so disillusioned that they plan to abstain, any outcome seems possible on Sunday.
In mid-April President François Hollande expressed regret that emotion has prevailed over reason and substance during this stormy presidential campaign. If it has occasionally appeared surreal, is it any surprise that the hologrammed master of illusion, Mélenchon, threatens to rock the French political world?